Product Quick Selector
---
Recommended Applications
Rycote InVision 1 (INV-1)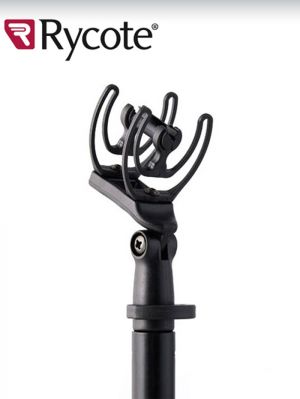 High performance compact microphone shockmount for compact microphones with LEMO connectors, such as the Schoeps CCM 4, the DPA 4023, the Sennheiser MKH8000 with MZL cable, and the Neumann KM100 Series with LC3 KA cable.
NOTE: This is not a comprehensive list of compatible microphones. Almost any microphone with a LEMO connector should fit the INV-1 shockmount.
The InVision lyre webs in which the microphone is mounted are just 43mm wide by 40mm high and the self addjusting screw on the mount's 'hing' allow it to be angled as required.
The INV-1 has 9.5mm diameter plastic microphone clips that will fit small gooseneck mics and is supplied with a reducing collar to grip LEMO connectors as shown below with the Schoeps CCM 4.

CLICK HERE for more information about Rycote's InVision shockmounts
£30.00