Product Quick Selector
---
Recommended Applications
Rycote InVision 3 (INV-3)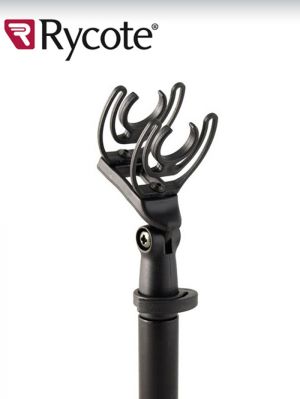 A high performance shockmount for compact microphones such as the Rode NT6, Octava Mk012, Sennheiser MKH 8040, the Neumann KM100 and the DPA 2006C.
This mount can also be used for longer microphones such as the Studio Projects C4, Rode NT5 or NT55, M-Audio Pulsar II, Audio Technica 4021 or AKG C451B, as long as the microphone cable is tethered securely in the integral cable clip and the instrument on which the H-clamp is mounted will not be moved too vigorously during the performance.
NOTE: This is not a comprehensive list of compatible microphones. Any microphone of similar size and shape to any of these examples should fit the INV-3 shockmount.
The InVision lyre webs in which the microphone is mounted are just 43mm wide by 40mm high and the self addjusting screw on the mount's 'hing' allow it to be angled as required.

CLICK HERE for more information about Rycote's InVision shockmounts
£40.00