Product Quick Selector
---
Recommended Applications
Cable Restraints
Two types of cable restraint are available:
1. Velcro cable ties for securing microphone cables to Guitar straps, etc and as strain relief when anchored to the lower strap button (Guitars, Banjos and other similar instruments) or spike (Cellos and Double Basses).
2. Clear elastic loops to 'tether' microphone cables gently but firmly to the H-clamp and thereby prevent them from knocking aaginst the instrument.
Both types of cable retraint are provided with all H-clamps but extra sets can be puchased here.
A set of 10 of these clear synthetic rubber loops is supplied with every H-clamp, This pack contains 20 loops.
£0.42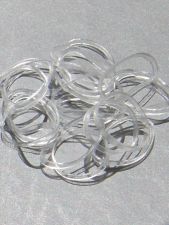 Black Velcro cable ties for: Strain relief when used to restrain the cables of microphones mounted on the H-clamp (see the H-clamp manual for fitting...
£2.08