Product Quick Selector
---
Recommended Applications
200mm H-Clamp Boom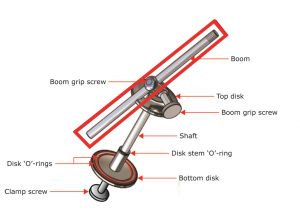 Standard (200mm in length) Boom supplied with all models of the H-clamp.
The H-clamp Boom positions the microphone over the instrument. The standard Boom is 200mm in length but for smaller instrument and some microphones, such as the Audio Technica ATM 450, a shorter Boom is less obtrusive. The Boom is available in a 100mm length for such applications.
If the H-clamp model you purchased has this shorter (100mm) boom but you also need a longer boom for some applications, the standard (200mm) boom is interchangeable with the shorter one. Click here for the shorter (100mm) Boom.
Please ensure you select the right Boom colour for your H-clamp:
Black: H-clamp Light (Black)
Silver: H-clamp Light (Silver & Black) and all H-clamp Spirit models
The Boom is a rod with a 3/8 inch threaded end for attaching microphone clips or shockmounts. An adaptor is available (click here) to convert the 3/8 inch thread to a 5/8 inch thread for any clips, shockmounts or other attachments with only 5/8 inch threads.
PLEASE NOTE: price excludes VAT and shipping.
CLICK "ADD TO BASKET' TO ADD TAX and SHIPPING
£10.42