Product Quick Selector
---
Recommended Applications
Rycote InVision 7 (INV-7)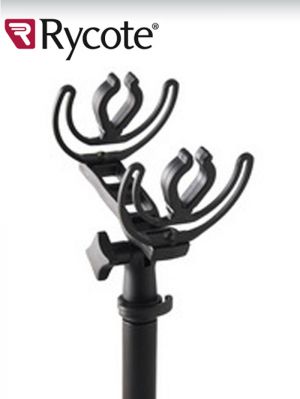 A high performance shockmount for standard 'pencil' or 'shotgun' small capsule condenser microphones. It is compatible with almost all microphones of this kind with barrel diameters of 19mm-25mm, including the Studio Projects C4, Rode NT5 or NT55, M-Audio Pulsar II, Audio Technica 4021, AKG C451B or C747, Gefell M300 or Neumann KM 184.
NOTE: This is not a comprehensive list of compatible microphones. Any microphone of similar size and shape to any of these examples will fit the INV-7 shockmount.
The standard lyre webs of the INV-7 are set at 70mm apart to provide improved isolation and stability when used on a boom. The attitude of the microphone mounting platform (on which the lyres are fixed) is adjusted and tightened using the star knob.
This mount is particularly effective when the instrument is likely to be moved vigorously during the pervformance. Where the smallest possible shockmount is required and vigorous movement is not anticipated, the INV-3 shockmount should be a better option.

CLICK HERE for more information about Rycote's InVision shockmounts
£40.00